Product Description
commercial wire strippers

M-2 Bench 9 slots Type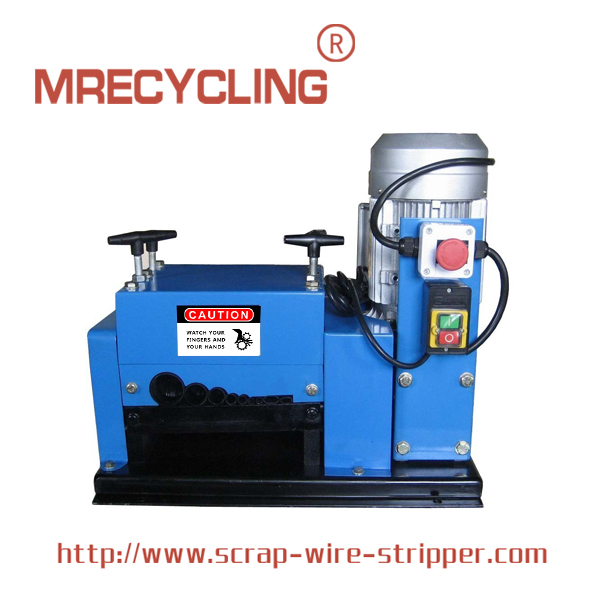 An environmentally safe way to remove wire insulation,Designed for Electricians, Demolition Companies, Supply Houses, and Recyclers.
This wire stripper is a bench mounted machine that grips the wire from one side and cuts and removes the insulation from the other simultaneously.Recycle the copper and aluminum wires.
Power supply 2.2KW,230V-50HZ
Processing diameter at 1-40mm cable wire
Wire stripping capacity 35 meter/minute
Output 50kgs/hour,depends on wire diameter
Measurement 370*560*550mm
Weight 80kgs
Steel rolls 4sets.
Blades 15 pieces
Slots 9 pieces

This machine add with 2 more slots for flat cable wire.
*Once the machine is set for one size of wire,you can strip that size continuously,without adjusting your machine.
*Hardened Steel Slitter Blades.
*Heavy Duty Gearbox Drive.
*Industrial on-off switch with separate Emergency Stop Button.
Machine Use Instructions:
1.Inspect whether the moving parts of the machine are adequately oiled (this includes grease on moving gears and oil on sprockets and chains); inspect knife points for marring or damage; inspect the machines screws and bolts to check whether they are loose, tighten if necessary.
2.After inspection is complete and all repairs are finished; switch on the power source; decide which channel to cut the cable in (proper channel depends on size of wire, settings of lower mandrel screw, tension of upper spring screws, ect.; choice of which channel depends on these factors); put the cable into the channel for testing (cable/wire length should not exceed 1 meter); turn off the switch after peeling; test if the desired results have been met.